}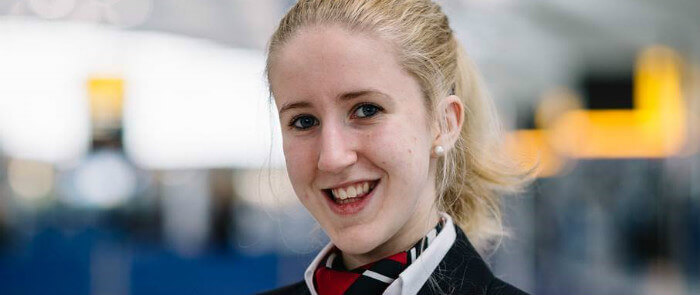 Like many others, I chose to become an apprentice because I wanted to gain a qualification whilst working a full time job. I just couldn't see myself in full time education for another 3 years after college.
My dad is a pilot for British Airways, so I felt like I already knew quite a bit about the company. My dream is to one day be a pilot myself, if I can afford the training!
"
Almost everyone here is hardworking and tries their best to do the right thing not only for the airline, but our passengers too.
"
But what I do now is customer service, and that involves check-in, boarding customers, hosting connections, and helping out in the First and Club lounges. We get 'offline' days too, which is basically time off work to get our coursework done, and some classroom learning in. And because British Airways is such a massive organisation, the career options are wide-ranging. So in 5 years time, I could be a customer service representative, I could be working in cabin crew, or best of all, I could be flying the planes myself.
Everyone at British Airways is confident, passionate about aviation, and honest. By honest, I mean there is a culture of taking ownership and responsibility for everything you do, and that includes owning up to any mistakes. The kinds of people who join us are a bit like that. Resilient, adaptable team players who are friendly to others and don't find it difficult to crack a smile. I've never looked back.