}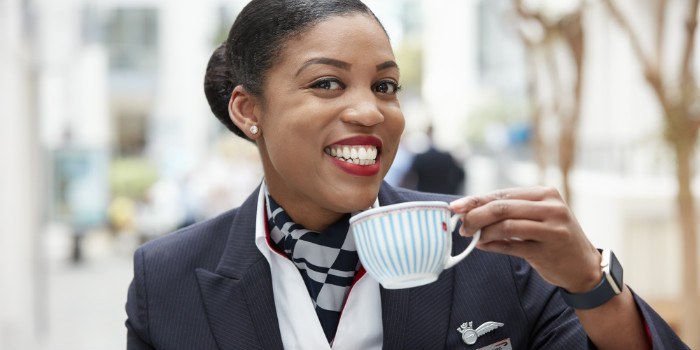 My job is to make sure our customers have the best experience possible on board our aircraft. And that means motivating, inspiring and leading my cabin crew team to uphold safety and deliver outstanding customer satisfaction.
Indeed, safety is my number one priority. I perform pre-flight safety briefings, and make sure the cabin crew carry out the appropriate safety measures while on board. Thinking back to my first day, of course I was nervous. It is a big responsibility, doing what we do. And in my time at British Airways, that responsibility has only increased.
"
It's the little things that can have the biggest impact.
"
When you're working at those kinds of heights, you become a jack of all trades. I've had to solve all sorts of problems, from blocked sinks to jammed trolleys and entertainment systems breaking down. The more you do it, the more confident you become in resolving issues yourself. It's a fantastic life skill.
One of the highlights of my time was taking my uncle to the British Airways Discover Day, where we put lots of aircraft out on display. He absolutely loved it. We also took part in a Guinness World Record for the biggest safety demo, which was fun.
Of course, another big perk of the job is all that travelling you get to do, and for me Rio de Janeiro was particularly memorable. If you do ever visit, take a trip into the rainforest and look out for the cheeky monkeys.
There's so much I've learned from my time at British Airways, but the biggest lesson of all is that we all like to feel special. And it's often the little things that have the biggest impact. Make people happy. I wouldn't trade it for the world. It's just as well that I don't have to.