}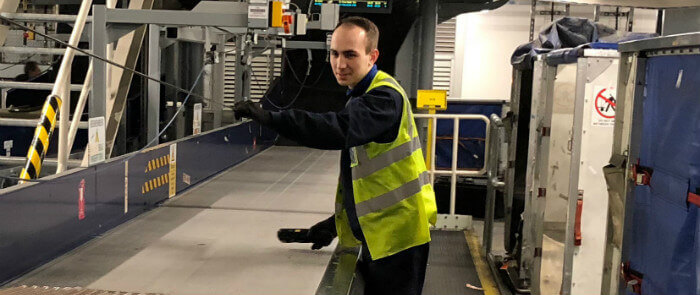 I studied engineering at a time when an apprenticeship was the best way to start a career. University wasn't really for me. it was the hands-on experience that I was after. I was keen to learn on the job. And ever since I was teenager, I'd always wanted to be in aviation.
I'm currently working towards a Level 2 Operations qualification at Heathrow in three different areas: Baggage, Logistics and Loading. The course itself lasts 15 months, and I believe it'll help get me to exactly where I want to be in the industry. The fact that I get to do it with such a well known British brand is even more exciting. I'm thrilled to be part of the future of British Airways, especially in today's rapidly changing world.
Looking back to the application process, it was pretty straight forward. I filled a form online, took part in a group activity, and completed a self assessment. After that, I had 3 ten minute interviews, before being offered the job. I was excited to start - I knew that the standards and expectations were high, and was struck by the attention to detail that was displayed right from the beginning.
"
Working in aviation has been a dream since I was young, and I now finally feel that I'm on the road to fulfilling it.
"
I'm in Baggage at the moment, where I load passenger luggage into the containers of every BA-operated flight out of Heathrow Terminals 3 and 5. My responsibility is to make sure all bags are scanned and find their way to where they need to be.
A typical day starts at 6am. I meet up with my mentor, who talks me though my schedule. From there, I pick up any equipment I might need to complete my tasks, and make sure I'm wearing the right gear before heading out. The culture is relaxed, but everyone takes their responsibilities very seriously. Standards are high. Most of all, people here take real pride in the job they do, and show amazing commitment. I think it's a mutual feeling of being part of a team and putting the customer first.
If that sounds like you, then you'd be exactly the type of person that would fit in at British Airways. You'll get some of the best training around in return, and learn from some highly experienced colleagues. It's just what I needed to get me on track.
And where do I see myself in 5 years? Right here at British Airways, doing my dream job.