}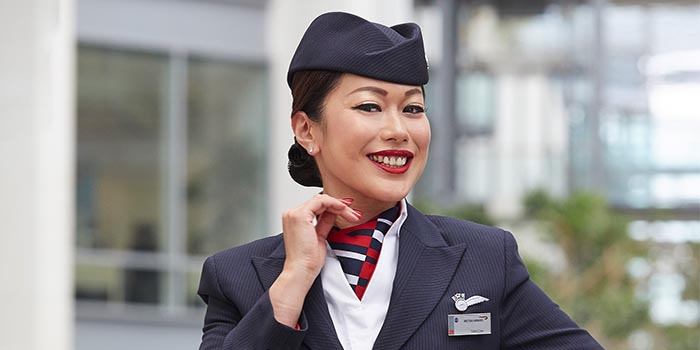 Becoming a Cabin Crew member was always a childhood dream of mine. Meeting customers from different parts of the world, visiting new places, sharing stories and learning from interesting people.
In essence, my job is to provide the best customer service possible. Which means making each and every individual feel special. Providing a memorable experience for our customers is the best way of promoting the British Airways brand, and we are at the forefront of that. I love being there for people, being able to listen, and to help and share stories that can make a difference to a customer's experience.
"
I still can't believe I was one of the cabin crew members chosen to fly Team GB back from the Rio Olympics.
"
I was very excited and nervous on my first day. But I very quickly realised that it wasn't all about customer service. The most important part of the job was looking after the safety of everyone on board. However, the great thing about British Airways is the way it embraces the individual. There is a sense that you can really be yourself. That we all have something unique and wonderful to contribute.
I've met all sorts of wonderful people in my job. And I've picked up all sorts of interesting knowledge and skills. Like how to open a bottle of champagne with a knife. Or how facial recognition software is a very good investment. But nothing compares to the time I flew Team GB back from the Rio Olympics. I even took some of them to their seats. The captain gave a little speech from the flight deck, there was a champagne toast and we all sang the National Anthem. It made me feel so proud to be British.
Doing what I do also means I get to see a lot of beautiful places all around the world. One thing I love doing is visiting the tallest building in every city. Sipping a coffee whilst watching the sunset at Space Needle in Seattle, and the John Hancock Observatory in Chicago are particular highlights.
At the end of the day, what makes the job I do so unique and special is the people I meet. The stories we share, and the insights we gain. There really isn't anything like it.