}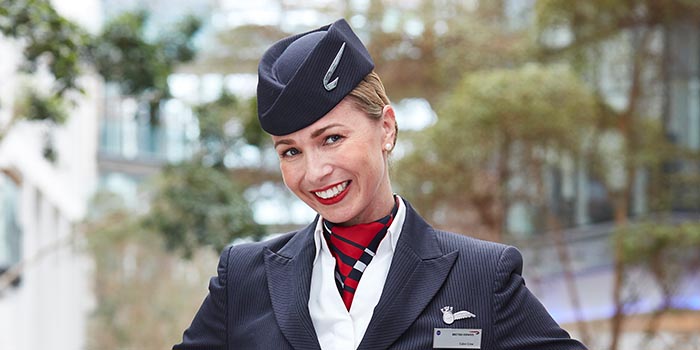 I joined British Airways in January 2014, and couldn't wait to start working for one of the most prestigious airlines in the world.
I'm Cabin Crew, and my biggest responsibility of all is to ensure the safety and comfort of our passengers. I am passionate about customer service, and the true variety that comes with the role is what keeps me going. Everything from dealing with different types of people and situations to discovering new parts of the world. It may sound like a cliché, but no two days are ever the same. For a new joiner learning the ropes, there's a lot to take in. You are after all the face of British Airways. Also, different aircraft come with different procedures, and it is our job to know them better than we know ourselves. I remember my first day at work - it was a long and demanding flight to Rio de Janeiro. But the crew I worked with in World Traveller were so supportive. They put me right at ease, which is just what I needed. Now, 4 years later I'm not only trained to work in Club World and First, I deliver New Entrants and First Training courses myself. One of the main things I stress to people thinking of joining us is that, physically, it is a demanding role. There will be sacrifices you'll have to make. But it is also one of the most rewarding jobs you will ever do. In fact, my proudest moment ever was the day I earned my Wings after successfully completing the intensive training programme. I just couldn't wait to get out there and get started.
"
The most rewarding job you will ever do.
"
I've been fortunate enough to visit many beautiful parts of the world and being enthusiastic about travel certainly helps in this role. Some of my fondest memories are of visiting South Africa and watching the sunset from the top of Table Mountain. It is an absolute privilege to be able to experience such diverse cultures and sensibilities, and to be able to take those experiences to enhance and enrich your perspective on the world.
It's an invaluable lesson and a big part of what makes the job so special.