}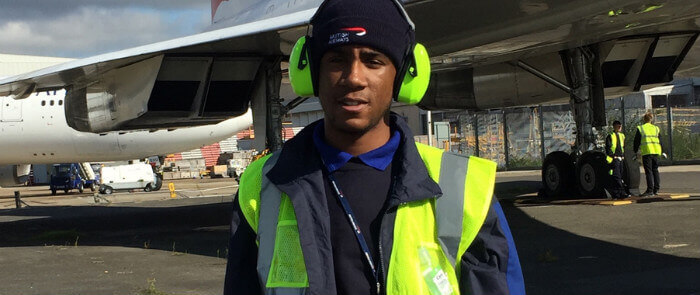 I've always been interested in aviation, and British Airways as the UK's flagship airline drew me in from the start. It struck me as being a very prestigious place to work.
I went for an apprenticeship because I knew it represented a fantastic opportunity to gain new skills while getting paid at the same time. I needed that guaranteed job, which you don't really get with universities anymore. That hands on experience - its priceless.
"
I love learning about new things and discovering how they work.
"
Before joining British Airways, I studied an L2 Ready To Work in Aircraft Maintenance for a year, which then led me to my current position. I was also lucky enough to have done a bit of work experience, which involved spending 5 days airside getting a feel for the life of an engineer. Currently, I'm working towards a Level 2 Operations qualification at Heathrow in three different areas: Baggage, Logistics and Loading. I'm really enjoying getting an understanding of all the different ramp functions and how they service the aircraft. A typical day for me involves checking the timetable in the morning to see what's in store, then heading over to the relevant team to get cracking on whatever needs to be done. Right now, I'm in baggage over at Heathrow Terminal 5. And for any concerns, questions, or even just a chat, I can always check in with manager, who is basically like my mentor. In fact that's what we call them - mentors.
British Airways is that kind of place. Diverse, friendly, and supportive. It's opened up a lot of opportunities, and paved the way for me to build my own personal career path. But you need to be motivated and dedicated to make the most of it. If you've got what it takes. I think it's a place where you can go far.