}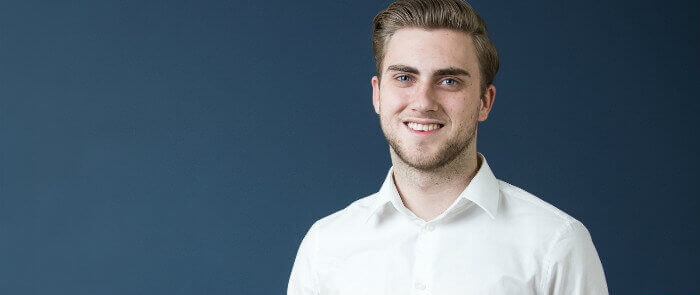 Like many others, the idea of an apprenticeship appealed to me because I wanted to gain proper work experience, develop new skills, and earn money while I'm at it. I never really enjoyed school, and always took a more hands on approach to life.
I'd been on a football scholarship for 2 years beforehand, and had initially been looking at coaching roles. But what got me to British Airways in the end was the prestige, the variety of roles available and the opportunity to develop a wide range of skills.
The Head Office Apprenticeship takes 2 years, and consists of 4 different placements each lasting 6 months, working towards an NVQ Level 4 qualification in Business Administration. The placements cover a variety of areas from customer experience to data. Currently, I work in IFCE (In Flight Customer Experience) Change & Development, supporting the global rollout of our Club World product. Part of this involves working very closely with crew on figuring out the best way to deliver it to our customers. So a typical day would have me completing an operations report and updating spreadsheets that identify trends and monitor actions across Club World.
"
The aviation industry is only going to grow, and I want to be part of it's development and improvement.
"
The apprenticeship has allowed me to gain a variety of work-based skills that can be transferred to many other jobs. I myself have been lucky enough to be involved in some great projects. But even if you're not sure what you want to do in the future, you'll still get an insight into where your strengths and weaknesses lie, and what you like and don't like doing.
The British Airways culture gives you that freedom to explore. The people you meet are relaxed and professional, and always willing to support you in any way they can. All you need is the right attitude - curiosity, a desire to learn, and a willingness to give it your all. If you can bring that to the table, you'll get a lot in return regardless of what you decide to do in your future career.